Every community-centric project, whether in crypto or any industry, has a bane: a specter of malicious actors, often described as Sybil attackers and bounty hunters, exploiting your community engagement and values.

As a founder of a community-centric project, an administrator, or a moderator, you may have experienced it firsthand. Especially when designing a gamification campaign, or a quest for boosting engagement, and reward community members.

Equipped with multiple accounts and bots, Sybil attackers illegitimately reap rewards while the actual community members who could genuinely contribute to the project are left empty-handed.

If you've given up and accepted that these problems are just part of the community-centric projects, particularly in Web3, here's some good news for you. We have something that changes the game, BotBasher for Discord.

BotBasher is an application created by utilizing the Humanode private biometric verification technology, allowing Discord users to verify that a unique living human being owns the account, and Discord servers to assign a Sybil-resistant role to the verified humans only.

So far, more than 100 servers are utilizing BotBasher with 200K+ verified humans within just a quarter of its launch to conduct Sybil-resistant polls (1 person  = 1 Vote), Sybil-resistant whitelisting, Sybil-resistant airdrops, Sybil-resistant gamified contests on platforms like Zealy, Galxe, QuestN, and more.

Today, we'll look into how BotBasher can be used alongside Wonderbot to create Sybil-resistant Quests on Wonder Communities, a platform known for being Discord-native.

By using Wonder Communities, you can set up customizable quests directly on your Discord server. The best part is that users can participate in quests directly from Discord without redirecting to any external website. This ensures more user engagement right on your Discord server.

Imagine a community thriving with genuine engagement, devoid of malicious exploits. A place where every member has an equal opportunity to contribute and win rewards. That's the power of combining Wonder quests with BotBasher.

BotBasher's integration links every reward to a unique, verified human. Multiple accounts or bots become ineffective. Once a member secures a verified role in one server, they carry this verification to every other server that has BotBasher integrated.

The process is straightforward and mindful of personal data privacy. It does not require any KYC or gathering any personal information that could be linked back to your identity. Read more on BotBasher Data Privacy here.

By integrating BotBasher with Wonder bot, you can ensure that
Users participating in your quests are actual unique human beings
Everyone having a verified Human role can participate in your quests directly from Discord, making it seamless and swift.
For a firsthand look at its effectiveness, check Humanode's first-ever quest using Wonderbot and BotBasher combined on our Discord. (Navigate to the #community-quest channel and type "/quests".)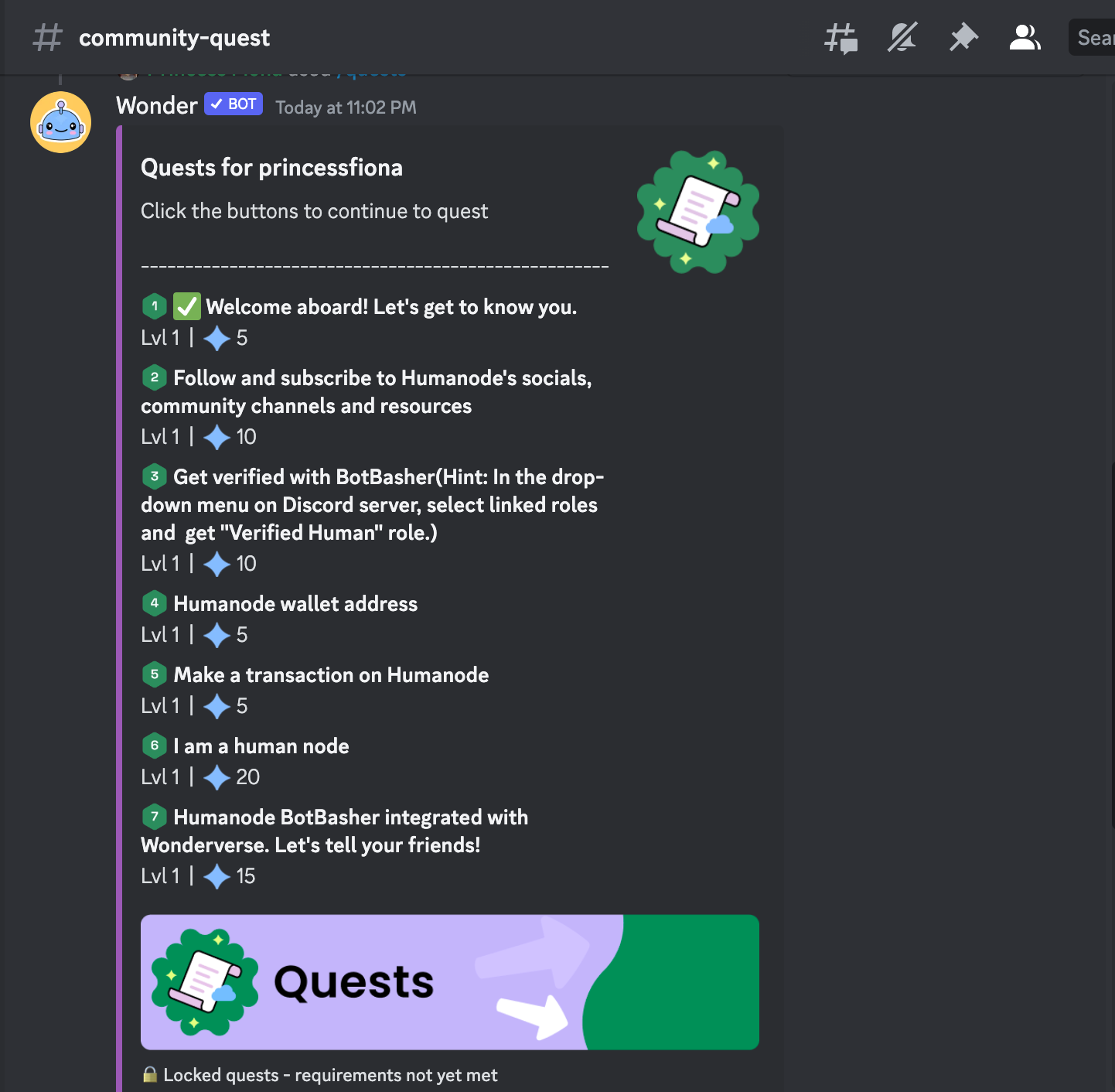 Want to learn How you can use BotBasher with Wonder Communities? Let's get on to it.
How to integrate BotBasher with Wonder to create Sybil-resistant Quests?
Add BotBasher to your Discord server and set up a new private channel accessible to verified humans only.
2. To get started, you need to sign up on Wonder Communities and create a New Community. Setting up your Community will require adding the Wonder bot to your Discord server.
3. Create a new Quest and Setup
While setting up your quests, you have multiple options to choose from or create customized quests such as on-chain tasks. Note that you can add multiple tasks in a single quest.
Refer to this guide on creating quests in Wonder Communities.
4. Once you finalize your quest details, go to the quest settings in the left corner. In settings, you will see options to specify multiple settings on who can participate in a particular contest. You can set up these conditions according to your need. But to make your quest Sybil-resistant, you need to add the condition "Discord Role" and the role assigned to Verified Humans on your server.
5. Now in your Discord server, community members can directly participate in the quests, see the leaderboard, and check their collective points using the Wonder bot commands.
Or better yet, whenever you publish a new quest, you can send a notification to a specific channel where users can directly participate in the quests.
6. Users can refer to this guide on How to get a verified role in any Discord server.
By integrating BotBasher with Wonder Communities, you can ensure that genuine users participate in your quests keeping the Sybil attackers at bay and building trust among community members.